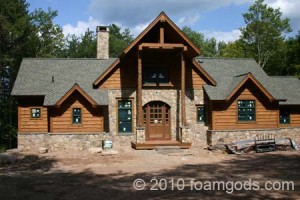 We completed an install inside Chapin Estates Located outside of Bethel, NY recently. We used a combination of Sprayed Foam Insulation as well a fiberglass insulation products. For exterior concrete walls we used our high performance closed cell foam which gives a high insulation value with a minimal amount of product expansion, as well the closed cell foam provides an impervious barrier to water and moisture.
On interior studded walls we used a combination of Open Cell Sparyed foam, as well as fiberglass insulation. Fiberglass insulation was only used on non-exterior exposed rooms for added soundproofing. Open cell insulation was used on all exterior facing walls where an airtight seal and maximum insulation was necessary!
Cathedral ceilings do not pose any challenge to insulate for a spray foam insulation install. We use scaffolding and picks to reach all areas of the roof and interior ceiling dead space to provide maximum energy efficiency, and insulation effectiveness.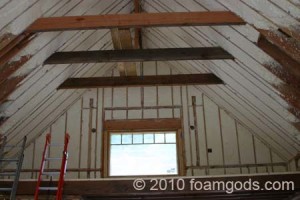 s.
Overall, this installation on new construction was complete and effective. Stay tuned to our postings so you can view more insulation installations, and we will be updating our articles with wall injected insulation projects in the very near future!